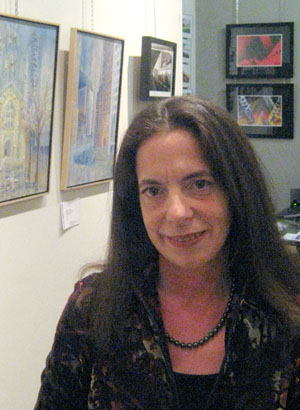 STILL LIFE AND THE CITY
I have always been drawn to the world of artifacts, the containers or vessels of life. Whether they be prominent historical buildings or wine bottles, they seem to share certain characteristics, to be imbued with a soulfulness which is analogous to the human body as a vessel.
Throughout my studies and teaching in architecture and my subsequent transition to the world of the painter, my thinking has evolved from the form of architecture to the architecture of form. My eye explores the particulization of matter, the  limn effects of light and color, their use in the creation of depth and volume, the transparency of form, the contemplation of edges and their dissolution, and the variety of brushstrokes as the basic ordering device.
Sandra Franke is a painter and resident of Bloor West Village, Toronto. She graduated from the University of Waterloo School of Architecture in 1984. From 1986 to 1993 Sandra pursued part time studies in Fine Arts at the Ontario College of Art (OCAD). She has worked both as an architect and taught at the University of Toronto and the University of Waterloo's Schools of Architecture. Sandra has been involved as a volunteer with various groups: Habitat for Humanity, Runnymede Public School, and activity therapy with Runnymede Healthcare Centre.
Website: www.sandrafranke.com